The Will Smith Room
Discography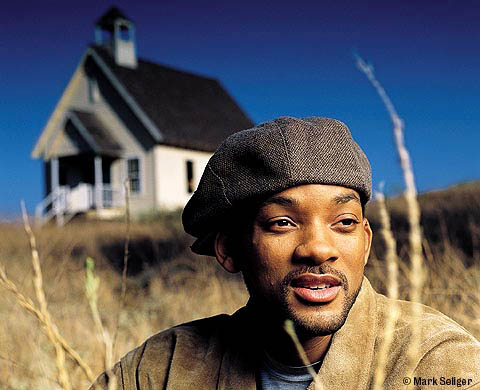 Rapper/actor Will Smith was born in 1968 in Philadelphia and after graduating from high school formed a rap duo with friend Jeff Townes. As "DJ Jazzy Jeff and The Fresh Prince," Townes and Smith produced a series of clean, family-oriented rap albums, including 1988's He's the DJ, I'm the Rapper, which contained the Top 20 hit "Parents Just Don't Understand," and 1989's And In This Corner..., which featured "I Think I Can Beat Mike Tyson."
That same year Smith landed the title role in the TV comedy "The Fresh Prince of Bel-Air," which lasted for six seasons. The show led to roles in movies such as Six Degrees of Separation, Bad Boys, Independence Day and Men in Black.
Now performing under his own name, Smith returned to music with two cuts on the 1997 Men in Black soundtrack. A solo rap album, Big Willie Style, was released on Columbia in late 1997 to great reviews. The album spent 72 weeks on the Billboard Top 40 album charts.
In 1999 Smith appeared in the box office disappointment Wild Wild West. The film's title track, however, was a summer hit for Smith.
In late 1999, Smith ushered in the 21st century with Willennium, featuring guest appearances by K-Ci, Lil' Kim, Biz Markie, Slick Rick and Tatyana Ali.

---
THE MEGA MUSIC LIBRARY
MAIN MUSIC ROOM:
GENERAL MUSIC INFORMATION: African-American ~ Folk ~ Pop ~ Rock
WORLD MUSIC: African ~ Arab ~ Chinese ~ Greek ~ Indian ~ Japanese ~ Jewish ~ Latin American ~ Native American
ARTIST ALLEY: 311 ~ 3eb ~ Alanis Morissette ~ Beastie Boys ~ Blur ~ Brandy ~ Bryan White ~ Chemical Brothers ~ The Cure ~ Paula Cole ~ Dave Matthews Band ~ Fatboy Slim ~ Fuel ~ Garbage ~ Garth Brooks ~ Goo Goo Dolls ~ Green Day ~ Hanson ~ Jimi Hendrix ~ Korn ~ LeAnn Rimes ~ Limp Bizkit ~ Marcy Playground ~ Matchbox 20 ~ Meredith Brooks ~ Metallica ~ Natalie Imbruglia ~ No Doubt ~ Oasis ~ The Offspring ~ Our Lady Peace ~ Paula Cole ~ Radiohead ~ Rage Against The Machine ~ Shania Twain ~ Slipknot ~ Smashing Pumpkins ~ Spice Girls ~ Stabbing Westward ~ Stone Temple Pilots ~ Toadies ~ Toni Braxton ~ Trisha Yearwood ~ The Urge ~ Will Smith
AWARDS CASE: Grammys ~ Oscars ~ Tonys ~ Emmys