The Trisha Yearwood Room
Discography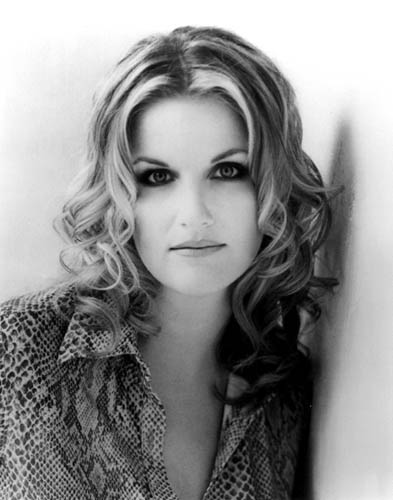 With a gold debut album and a marketably smooth voice, Trisha Yearwood epitomized the early-Nineties Nashville artist: grounded in country tradition but reaching an audience raised on Seventies pop.
Moving to Nashville in 1985, Yearwood began singing demos. Garth Brooks enlisted her to sing backup on his debut and to tour with him; through Brooks, she met producer Garth Fundis, who produced Trisha Yearwood (#2 C&W, 1991). The album was an instant success, its singles, "She's in Love with the Boy" (#1 C&W, 1991), "Like We Never Had a Broken Heart" (#4 C&W, 1991) (which Yearwood cowrote with Brooks), and "That's What I Like About You" (#8 C&W, 1992), helping Yearwood win the Academy of Country Music's Top New Female Vocalist Award in 1992.
Featuring "Wrong Side of Memphis" (#5 C&W, 1992), "The Woman Before Me" (#4 C&W, 1992), and a duet with Don Henley, "Walkaway Joe" (#2 C&W, 1993), Hearts in Armor (#46 pop, #12 C&W, 1992) consolidated Yearwood's gains. In 1992 she contributed a version of Elvis Presley's hit "You're the Devil in Disguise" to the Honeymoon in Vegas soundtrack. By 1993 she had signed a deal with Revlon to market a perfume called Wild Heart, been featured in the movie This Thing Called Love, and been the subject of a biography, Get Hot or Go Home-Trisha Yearwood: The Making of a Nashville Star by Lisa Gubernick. The Song Remembers When (#40 pop, #6 C&W, 1993), with its accompanying cable-television special and singles "You Say You Will" (#12 C&W, 1993), "Down on My Knees" (#19 C&W, 1993), and the title track (#2 C&W, 1993), continued her rise. In 1993 she contributed "New Kid in Town" to the Eagles tribute, Common Thread; the following year she duetted with Aaron Neville on the Grammy-winning "I Fall to Pieces," for the anthology Rhythm, Country and Blues. Yearwood's fourth album, Thinkin' About You (#3 pop, #8 C&W), was released on Valentine's Day, 1995.
Born Patricia Lynn Yearwood, September 19, 1964, Monticello, Georgia

---
THE MEGA MUSIC LIBRARY
MAIN MUSIC ROOM:
GENERAL MUSIC INFORMATION: African-American ~ Folk ~ Pop ~ Rock
WORLD MUSIC: African ~ Arab ~ Chinese ~ Greek ~ Indian ~ Japanese ~ Jewish ~ Latin American ~ Native American
ARTIST ALLEY: 311 ~ 3eb ~ Alanis Morissette ~ Beastie Boys ~ Blur ~ Brandy ~ Bryan White ~ Chemical Brothers ~ The Cure ~ Paula Cole ~ Dave Matthews Band ~ Fatboy Slim ~ Fuel ~ Garbage ~ Garth Brooks ~ Goo Goo Dolls ~ Green Day ~ Hanson ~ Jimi Hendrix ~ Korn ~ LeAnn Rimes ~ Limp Bizkit ~ Marcy Playground ~ Matchbox 20 ~ Meredith Brooks ~ Metallica ~ Natalie Imbruglia ~ No Doubt ~ Oasis ~ The Offspring ~ Our Lady Peace ~ Paula Cole ~ Radiohead ~ Rage Against The Machine ~ Shania Twain ~ Slipknot ~ Smashing Pumpkins ~ Spice Girls ~ Stabbing Westward ~ Stone Temple Pilots ~ Toadies ~ Toni Braxton ~ Trisha Yearwood ~ The Urge ~ Will Smith
AWARDS CASE: Grammys ~ Oscars ~ Tonys ~ Emmys