The Shania Twain Room
Discography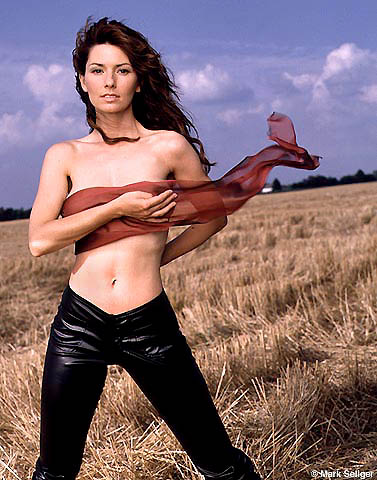 Pop-country singer Shania Twain was born in Windsor, Ontario in August 1965 and raised in the small town of Timmins, Ontario where she began playing guitar as a child, strongly encouraged by her parents. Tragically, her mother and father died in a car crash when Twain was 21, forcing her to put aside music to support her younger siblings.
In her mid-20s Twain recorded a demo tape of country originals and was quickly signed to Mercury Nashville, who released her self-titled debut album in 1993. While working on her next album, 1995's The Woman in Me, with hard rock producer Robert John "Mutt" Lange, the couple fell in love and married. In an almost storybook fashion, her new album became a smash hit, launching "Whose Bed Have Your Boots Been Under?," "Any Man of Mine" and the No. 1 singles "The Woman in Me," "No One Needs to Know," and "(If You're Not In It for Love) I'm Outta Here!"
By combining pop-country with rock stylings and sexy videos, Twain became one of the most popular country stars of the 1990s, selling more than 12 million copies of The Woman in Me.
Twain's 1997 release, Come On Over, is hailed as the Thriller of the '90s for its massive record sales, number of hits, and number of weeks in the Top 40. Come On Over spawned no less than eight hit singles, including "Love Gets Me Everytime," "You're Still the One," "From this Moment On," Honey, I'm Home," "That Don't Impress Me Much" and "You've Got a Way."

---
THE MEGA MUSIC LIBRARY
MAIN MUSIC ROOM:
GENERAL MUSIC INFORMATION: African-American ~ Folk ~ Pop ~ Rock
WORLD MUSIC: African ~ Arab ~ Chinese ~ Greek ~ Indian ~ Japanese ~ Jewish ~ Latin American ~ Native American
ARTIST ALLEY: 311 ~ 3eb ~ Alanis Morissette ~ Beastie Boys ~ Blur ~ Brandy ~ Bryan White ~ Chemical Brothers ~ The Cure ~ Paula Cole ~ Dave Matthews Band ~ Fatboy Slim ~ Fuel ~ Garbage ~ Garth Brooks ~ Goo Goo Dolls ~ Green Day ~ Hanson ~ Jimi Hendrix ~ Korn ~ LeAnn Rimes ~ Limp Bizkit ~ Marcy Playground ~ Matchbox 20 ~ Meredith Brooks ~ Metallica ~ Natalie Imbruglia ~ No Doubt ~ Oasis ~ The Offspring ~ Our Lady Peace ~ Paula Cole ~ Radiohead ~ Rage Against The Machine ~ Shania Twain ~ Slipknot ~ Smashing Pumpkins ~ Spice Girls ~ Stabbing Westward ~ Stone Temple Pilots ~ Toadies ~ Toni Braxton ~ Trisha Yearwood ~ The Urge ~ Will Smith
AWARDS CASE: Grammys ~ Oscars ~ Tonys ~ Emmys