The Our Lady Peace Room
Discography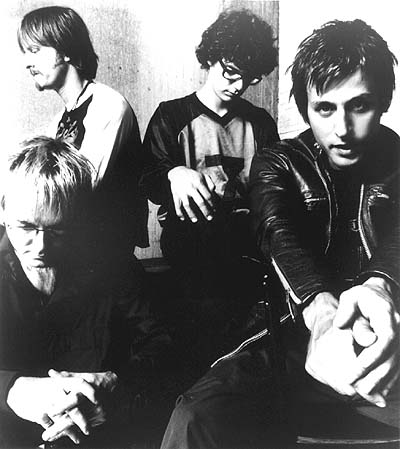 Our Lady Peace was formed in 1992 when singer Raine Maida met guitarist Mike Turner while studying at the University of Toronto. They joined forces with bassist Chris Eacrett and drummer Jeremy Taggart to record their debut album, Naveed, in 1995.
The post-grunge band toured Canada in support of the album, opening for acts such as Bush, Elastica, the Ramones and Alanis Morissette. Naveed was a multi-platinum seller in Canada, largely due to the band's diligent touring schedule and television appearances on "Late Night with Conan O'Brien" and "The Jon Stewart Show." Their single, "Starseed," made it to Billboard's Modern Rock chart.
OLP's 1997 follow-up album, Clumsy, was greeted with critical raves and was certified gold in the United States less than a year after its release. Their latest, Happiness...Is Not A Fish That You Can Catch, came out in 1999.

---
THE MEGA MUSIC LIBRARY
MAIN MUSIC ROOM:
GENERAL MUSIC INFORMATION: African-American ~ Folk ~ Pop ~ Rock
WORLD MUSIC: African ~ Arab ~ Chinese ~ Greek ~ Indian ~ Japanese ~ Jewish ~ Latin American ~ Native American
ARTIST ALLEY: 311 ~ 3eb ~ Alanis Morissette ~ Beastie Boys ~ Blur ~ Brandy ~ Bryan White ~ Chemical Brothers ~ The Cure ~ Paula Cole ~ Dave Matthews Band ~ Fatboy Slim ~ Fuel ~ Garbage ~ Garth Brooks ~ Goo Goo Dolls ~ Green Day ~ Hanson ~ Jimi Hendrix ~ Korn ~ LeAnn Rimes ~ Limp Bizkit ~ Marcy Playground ~ Matchbox 20 ~ Meredith Brooks ~ Metallica ~ Natalie Imbruglia ~ No Doubt ~ Oasis ~ The Offspring ~ Our Lady Peace ~ Paula Cole ~ Radiohead ~ Rage Against The Machine ~ Shania Twain ~ Slipknot ~ Smashing Pumpkins ~ Spice Girls ~ Stabbing Westward ~ Stone Temple Pilots ~ Toadies ~ Toni Braxton ~ Trisha Yearwood ~ The Urge ~ Will Smith
AWARDS CASE: Grammys ~ Oscars ~ Tonys ~ Emmys