The Metallica Room
Discography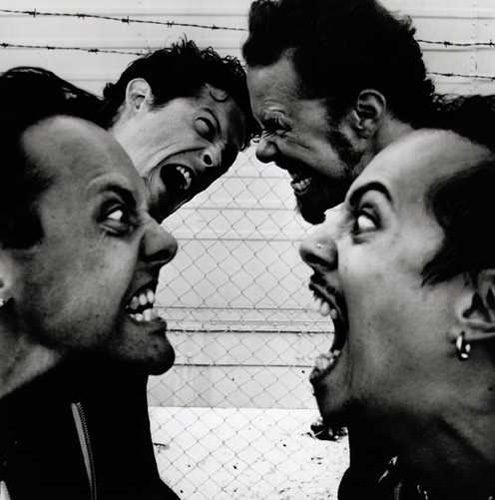 In the Eighties -- when heavy metal was dominated by big hair and small ideas -- Metallica's dense blend of brains and brawn gave the genre a much-needed charge. By 1991 fans had responded to Metallica's message in droves, buying six million copies of the group's fifth full-length album and elevating its previous LPs to platinum. In the process, grim-faced guitarist/singer James Hetfield became not only a hero for the nation's largest fraternity of misfits -- suburban metalheads -- but also a critically respected songwriter and bandleader.
Hetfield and Lars Ulrich came from different worlds to form Metallica in the Los Angeles suburbs in 1981. Hetfield, whose father was a trucking company owner and mother a light opera singer, was raised in a strict Christian Science home; Ulrich, a recently transplanted Dane, had intended to become a professional tennis player like his father, Torben Ulrich. What the two teenagers shared was an interest in the gritty music of U.K. hard rockers Motorhead. Adding guitarist Dave Mustaine and bassist Ron McGovney, the band started writing songs and recording demo tapes. Metallica's lineup solidified in 1983 when Bay Area guitarist Kirk Hammett replaced Mustaine (who was booted out for his excessive substance abuse and went on to form Megadeth) and bassist Cliff Burton moved into McGovney's slot.
After gaining a solid cult following among fans who could not identify with contemporary pretty-boy pop-metal combos such as Van Halen and Bon Jovi, Metallica became known for its sophisticated, often complex song structures and serious lyrics that reflected teen obsessions with anger, despair, fear, and death. In sharp contrast to those of other death-obsessed metal bands, Metallica's lyrics pose deeper questions about justice and retribution, drug addiction, mental illness, and political violence. The group's debut album, Kill 'Em All, is an anarchic catharsis of gloom, with songs like "No Remorse" decrying the insanity of war, and "Seek and Destroy" looking at mindless street violence. On subsequent albums the subject matter teetered between the political (.... And Justice for All) and the personal (Metallica).
In 1986 Metallica's tour bus skidded off an icy road in Sweden, killing bassist Burton. The surviving members took some time off before regrouping with ex-Flotsam and Jetsam bassist Jason Newsted. Newsted's more solid playing style brought a thicker, tighter sound, which contributed to the group's massive success in the late Eighties and early Nineties. On August 8,1992, the band experienced another tragedy when their pyrotechnics went awry during an ill-fated performance with Guns n' Roses (it was the same night of Gn'R's notorious riot show) at Montreal's Olympic Stadium; Hetfield wound up walking into a wall of flames and suffering serious burns, but recovered fully.
Metallica had developed its following without the benefit of radio play, so it came as a bit of a surprise when Master of Puppets reached #29 in 1986. The followup EP, Garage Days Re-Revisited (a collection of covers of songs by various punk and metal bands including Killing Joke and the Misfits), made it to #28. Metallica's first Top Ten album was ...And Justice for All, which reached #6 in 1988 with its single, "One," breaking into the Top Forty at #35. Its striking video included clips from the 1971 antiwar film of Dalton Trumbo's Johnny Got His Gun, the tale of a quadriplegic, faceless World War I veteran. After a three-year hiatus, the much-anticipated Metallica entered the charts at #1. The album contained a string of hits, including "Enter Sandman" (#16), "The Unforgiven" (#35), and "Nothing Else Matters" (#34). Their live album, Live Shit (#26, 1993), was recorded in 1993 at three shows in Mexico City.
Formed 1981, California
James Alan Hetfield (b. Aug. 3, 1963, Los Angeles, Calif.), gtr., voc.;
Ron McGovney, bass;
Dave Mustaine (b. Sep. 13, 1961, La Mesa, Calif.), gtr.;
Lars Ulrich (b. Dec. 16, 1963, Gentoss, Copenhagen, Den.), drums.

---
THE MEGA MUSIC LIBRARY
MAIN MUSIC ROOM:
GENERAL MUSIC INFORMATION: African-American ~ Folk ~ Pop ~ Rock
WORLD MUSIC: African ~ Arab ~ Chinese ~ Greek ~ Indian ~ Japanese ~ Jewish ~ Latin American ~ Native American
ARTIST ALLEY: 311 ~ 3eb ~ Alanis Morissette ~ Beastie Boys ~ Blur ~ Brandy ~ Bryan White ~ Chemical Brothers ~ The Cure ~ Paula Cole ~ Dave Matthews Band ~ Fatboy Slim ~ Fuel ~ Garbage ~ Garth Brooks ~ Goo Goo Dolls ~ Green Day ~ Hanson ~ Jimi Hendrix ~ Korn ~ LeAnn Rimes ~ Limp Bizkit ~ Marcy Playground ~ Matchbox 20 ~ Meredith Brooks ~ Metallica ~ Natalie Imbruglia ~ No Doubt ~ Oasis ~ The Offspring ~ Our Lady Peace ~ Paula Cole ~ Radiohead ~ Rage Against The Machine ~ Shania Twain ~ Slipknot ~ Smashing Pumpkins ~ Spice Girls ~ Stabbing Westward ~ Stone Temple Pilots ~ Toadies ~ Toni Braxton ~ Trisha Yearwood ~ The Urge ~ Will Smith
AWARDS CASE: Grammys ~ Oscars ~ Tonys ~ Emmys