The Meredith Brooks Room
Discography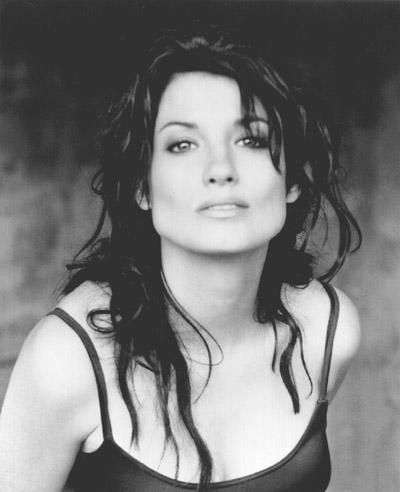 Singer-songwriter Meredith Brooks grew up in Corvallis, Ore., but moved to Los Angeles in her early 20s to try to break into the music business. Brooks ended up joining Charlotte Caffey's Go-Gos-influenced girl-pop group the Graces, which released a 1990 album on A&M (Perfect View) before breaking up. After spending a few years on other projects, Brooks returned in the mid-'90s as a Sheryl Crow-influenced singer-songwriter. In the post-Alanis Morissette musical environment of 1996, Brooks was snatched up by Capitol Records, who saw huge commercial potential in her edgy vocals and confrontational lyrics. Sure enough, Brooks' debut album, Blurring the Edges, went gold on the strength of the No. 1 single "Bitch," which many listeners mistook for a new Alanis song; unlike Alanis however, Brooks writes and plays guitar on nearly all of her songs.
Brooks spent the summers of '97 and '98 touring with the popular Lilith Fair.

---
THE MEGA MUSIC LIBRARY
MAIN MUSIC ROOM:
GENERAL MUSIC INFORMATION: African-American ~ Folk ~ Pop ~ Rock
WORLD MUSIC: African ~ Arab ~ Chinese ~ Greek ~ Indian ~ Japanese ~ Jewish ~ Latin American ~ Native American
ARTIST ALLEY: 311 ~ 3eb ~ Alanis Morissette ~ Beastie Boys ~ Blur ~ Brandy ~ Bryan White ~ Chemical Brothers ~ The Cure ~ Paula Cole ~ Dave Matthews Band ~ Fatboy Slim ~ Fuel ~ Garbage ~ Garth Brooks ~ Goo Goo Dolls ~ Green Day ~ Hanson ~ Jimi Hendrix ~ Korn ~ LeAnn Rimes ~ Limp Bizkit ~ Marcy Playground ~ Matchbox 20 ~ Meredith Brooks ~ Metallica ~ Natalie Imbruglia ~ No Doubt ~ Oasis ~ The Offspring ~ Our Lady Peace ~ Paula Cole ~ Radiohead ~ Rage Against The Machine ~ Shania Twain ~ Slipknot ~ Smashing Pumpkins ~ Spice Girls ~ Stabbing Westward ~ Stone Temple Pilots ~ Toadies ~ Toni Braxton ~ Trisha Yearwood ~ The Urge ~ Will Smith
AWARDS CASE: Grammys ~ Oscars ~ Tonys ~ Emmys