The Matchbox 20 Room
Discography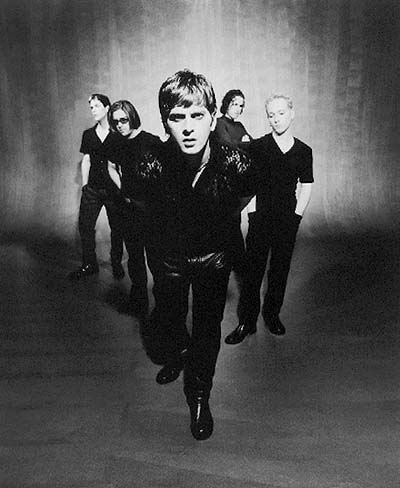 Alternative rockers Matchbox 20 evolved out of the popular Florida band Tabitha's Secret, changing to their current name and lineup in 1996 and released their debut album, Yourself Or Someone Like You, on Atlantic Records in 1997. The album quickly reached the Top 10 thanks to the success of their radio-friendly single, "Push."
2000 started out auspiciously for lead singer Rob Thomas. "Smooth," the tune that Thomas sang on and co-wrote for the Carlos Santana monster hit, Supernatural, received multiple honors at the 42nd Annual Grammy Awards . The second Matchbox Twenty album (the band underwent a slight name change the same year, trading "20" for "Twenty"), Mad Season By Matchbox Twenty, is slated for release in May 2000.

---
THE MEGA MUSIC LIBRARY
MAIN MUSIC ROOM:
GENERAL MUSIC INFORMATION: African-American ~ Folk ~ Pop ~ Rock
WORLD MUSIC: African ~ Arab ~ Chinese ~ Greek ~ Indian ~ Japanese ~ Jewish ~ Latin American ~ Native American
ARTIST ALLEY: 311 ~ 3eb ~ Alanis Morissette ~ Beastie Boys ~ Blur ~ Brandy ~ Bryan White ~ Chemical Brothers ~ The Cure ~ Paula Cole ~ Dave Matthews Band ~ Fatboy Slim ~ Fuel ~ Garbage ~ Garth Brooks ~ Goo Goo Dolls ~ Green Day ~ Hanson ~ Jimi Hendrix ~ Korn ~ LeAnn Rimes ~ Limp Bizkit ~ Marcy Playground ~ Matchbox 20 ~ Meredith Brooks ~ Metallica ~ Natalie Imbruglia ~ No Doubt ~ Oasis ~ The Offspring ~ Our Lady Peace ~ Paula Cole ~ Radiohead ~ Rage Against The Machine ~ Shania Twain ~ Slipknot ~ Smashing Pumpkins ~ Spice Girls ~ Stabbing Westward ~ Stone Temple Pilots ~ Toadies ~ Toni Braxton ~ Trisha Yearwood ~ The Urge ~ Will Smith
AWARDS CASE: Grammys ~ Oscars ~ Tonys ~ Emmys