The Marcy Playground Room
Discography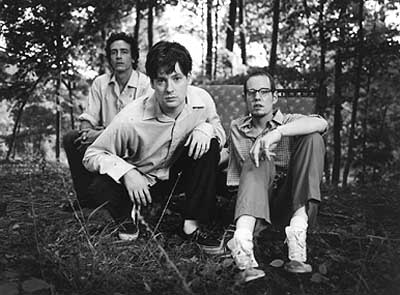 The alternative rock trio Marcy Playground came together on New York's Lower East Side and got their start opening for bands such as Chalk Farm and Toad the Wet Sprocket. The band -- John Wozniak (vocals, guitar) Dylan Keefe (bass) and Dan Reiser (drums) -- took their name from Wozniak's Minneapolis grammar school, Marcy Open School.
Their eponymous debut album was released on EMI in February 1997 and contained the single, "Sex and Candy." Upon EMI's demise, Capitol Records snapped the group up and re-released the album, as well as a video for "Sex and Candy."
Marcy Playground's latest release, Shapeshifter, is slated for a November 1999 release.

---
THE MEGA MUSIC LIBRARY
MAIN MUSIC ROOM:
GENERAL MUSIC INFORMATION: African-American ~ Folk ~ Pop ~ Rock
WORLD MUSIC: African ~ Arab ~ Chinese ~ Greek ~ Indian ~ Japanese ~ Jewish ~ Latin American ~ Native American
ARTIST ALLEY: 311 ~ 3eb ~ Alanis Morissette ~ Beastie Boys ~ Blur ~ Brandy ~ Bryan White ~ Chemical Brothers ~ The Cure ~ Paula Cole ~ Dave Matthews Band ~ Fatboy Slim ~ Fuel ~ Garbage ~ Garth Brooks ~ Goo Goo Dolls ~ Green Day ~ Hanson ~ Jimi Hendrix ~ Korn ~ LeAnn Rimes ~ Limp Bizkit ~ Marcy Playground ~ Matchbox 20 ~ Meredith Brooks ~ Metallica ~ Natalie Imbruglia ~ No Doubt ~ Oasis ~ The Offspring ~ Our Lady Peace ~ Paula Cole ~ Radiohead ~ Rage Against The Machine ~ Shania Twain ~ Slipknot ~ Smashing Pumpkins ~ Spice Girls ~ Stabbing Westward ~ Stone Temple Pilots ~ Toadies ~ Toni Braxton ~ Trisha Yearwood ~ The Urge ~ Will Smith
AWARDS CASE: Grammys ~ Oscars ~ Tonys ~ Emmys