The Chemical Brothers Room
Discography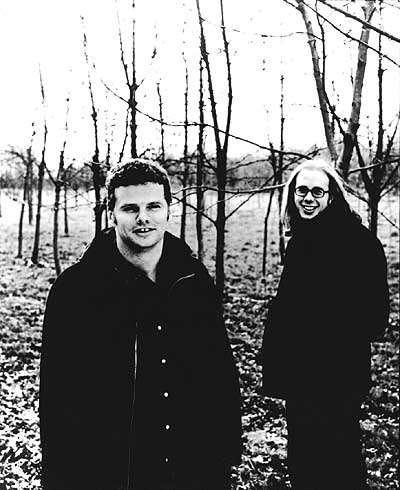 Even though they have been spinning discs and pleasing club crowds in England since 1990, the Chemical Brothers were virtually unknown in the United States until early 1997. Since the explosion of what record industry folks are calling "electronica," the techno-spinning duo of Ed Simons and Tom Rowlands has become somewhat of a sensation. Their pictures have been splashed across the covers of most major music magazines in the US and UK. Everyone wants to interview them. And, they even turned down an opportunity to work with the Rolling Stones. The reason: they felt like they were just two guys creating dance music and didn't want to get thrown into the spotlight.
So who are the Chemical Brothers? Tom and Ed met at the University of Manchester in a history course. At that time, Tom was already in a band, Ariel, and they had recorded an album. Ed sort of just hung around the band. In 1992, Tom left Ariel and he and Ed signed on with deConstruction, calling themselves The Dust Brothers. The two continued creating hip hop dance grooves influenced by the likes of the Beastie Boys and Public Enemy.
Moving down to London, the Brothers got steady gigs dee-jaying in places like the Heavenly Sunday Social club. From there, they began re-mixing material for Prodigy, Charlatans, Primal Scream and Sabres Of Paradise.
In 1995, the American production team, The Dust Brothers, threatened to sue the English duo if they don't change their name. Hence, the birth of the Chemical Brothers. With their new name, the Brothers release their first LP Exit Planet Dust on Freestyle Dust/Junior Boy's Own/Virgin labels.
The Chemical Brothers are now on Astralwerks, an affiliate of Virgin Records. Their long-awaited second LP, Dig Your Own Hole, was released in April 1997 to rave reviews. The biggest and best review they could have received was when Oasis songwriter Noel Gallagher asked the Brothers if he could record a song with them. "Setting Sun" appears on the Brothers' newest effort. The first week the album was out, it sold upward of 40,000 albums and debuted at No. 14 on the Billboard 200.
Their latest release, Brothers Gonna Work It Out, came out in the fall of 1998 on Astralwerks.

---
THE MEGA MUSIC LIBRARY
MAIN MUSIC ROOM:
GENERAL MUSIC INFORMATION: African-American ~ Folk ~ Pop ~ Rock
WORLD MUSIC: African ~ Arab ~ Chinese ~ Greek ~ Indian ~ Japanese ~ Jewish ~ Latin American ~ Native American
ARTIST ALLEY: 311 ~ 3eb ~ Alanis Morissette ~ Beastie Boys ~ Blur ~ Brandy ~ Bryan White ~ Chemical Brothers ~ The Cure ~ Paula Cole ~ Dave Matthews Band ~ Fatboy Slim ~ Fuel ~ Garbage ~ Garth Brooks ~ Goo Goo Dolls ~ Green Day ~ Hanson ~ Jimi Hendrix ~ Korn ~ LeAnn Rimes ~ Limp Bizkit ~ Marcy Playground ~ Matchbox 20 ~ Meredith Brooks ~ Metallica ~ Natalie Imbruglia ~ No Doubt ~ Oasis ~ The Offspring ~ Our Lady Peace ~ Paula Cole ~ Radiohead ~ Rage Against The Machine ~ Shania Twain ~ Slipknot ~ Smashing Pumpkins ~ Spice Girls ~ Stabbing Westward ~ Stone Temple Pilots ~ Toadies ~ Toni Braxton ~ Trisha Yearwood ~ The Urge ~ Will Smith
AWARDS CASE: Grammys ~ Oscars ~ Tonys ~ Emmys